The Reign of Elizabeth 1558 - 1603 by J.B. Black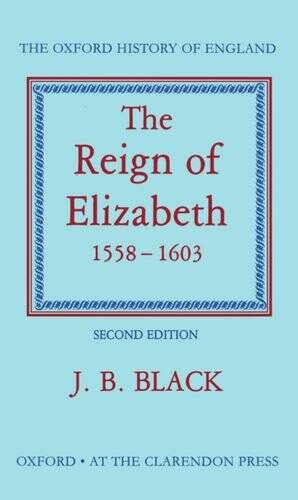 Hardcover. Condition: Fine. Dust Jacket: Very Good. 1992. Clarendon Press (Oxford). 2nd Edition.
Few rulers have impressed themselves so forcefully on the memory and imagination of their people as Queen Elizabeth I. 'Elizabethan England' was, in a very real sense, Elizabeth's England, and the country she left behind when she died was a kingdom that had won a commanding position among the great powers of Europe. This book, first published in The Oxford History of England covers all aspects of the reign of Elizabeth, encompassing social and cultural history as well as political and economic. Among the principal issues it deals with are the Religious Settlement, England's relations with foreign powers, notably France and the Netherlands, Mary Stuart's challenge to the succession, the Armada, and the Irish problem. In the sphere of the arts, particular attention is paid to drama and poetry, and developments in the sciences are also discussed.